You may have missed it, but the Department for Education (DfE) issued a press release recently welcoming the fact that qualifications in 12 community languages, ranging from Arabic and Bengali to Polish and Urdu, have been saved (https://www.gov.uk/government/news/community-languages-saved-to-ensure-diverse-curriculum-continues). It means that young people will still be able to take GCSEs and A levels in these languages, recognising how important these skills will be in an increasingly global economy.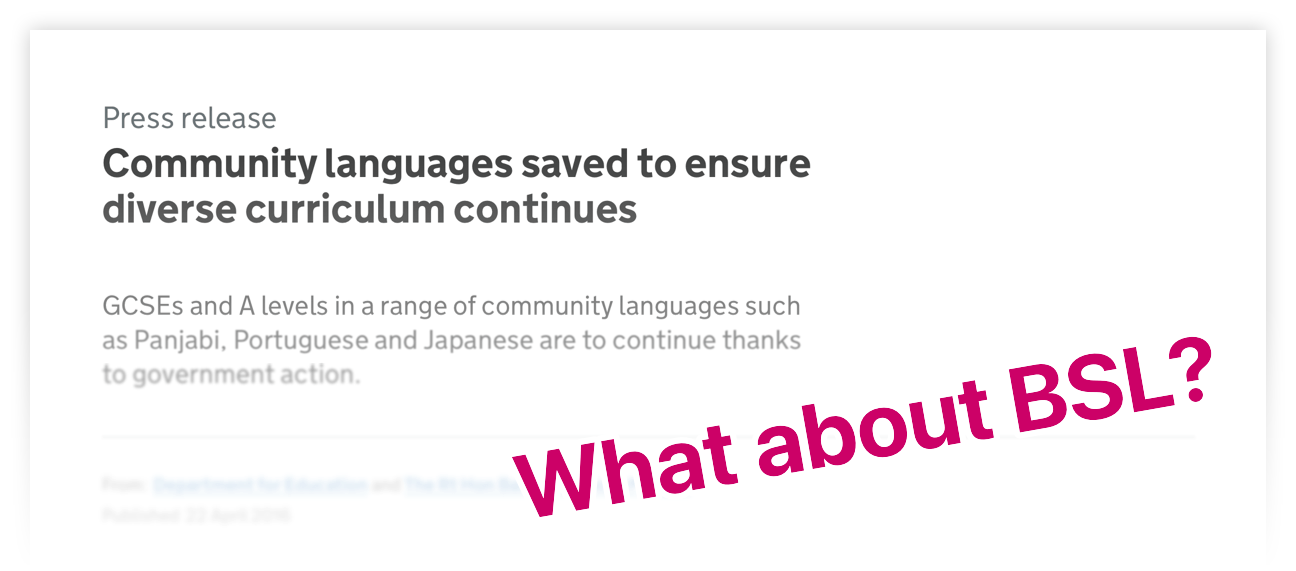 No mention of BSL though! We know that more people want to learn BSL than French or German! In Scotland they already have a BSL Act, are developing a BSL National Plan, and it will apply to all the Scottish Ministers and local authorities!
But what's happening about BSL qualifications in England. We couldn't get a comment from the DfE, apart from a less-than-helpful "A decision will be made in due course". The qualifications regulator, OfQual, was better, explaining that the BSL qualifications at the moment are classed as vocational, and confirming that they are "not aware of any plans to introduce BSL as a general qualification". Apparently it's up to organisations to propose a syllabus to one of the exam boards and they take it from there.
Thank goodness Signature is currently doing exactly that - running a BSL GCSE pilot in six schools across England. Lindsay Foster, their Chief Operating Officer said "We believe that having a BSL qualification available in schools is vital to moving us closer to an inclusive society for young people. Providing the opportunity for deaf young people to achieve a qualification in their own language and their hearing peers to gain the skills to communicate with them throughout their education and beyond.
Communicating in British Sign Language should mean children no longer feel isolated, school leavers can achieve their potential, forward thinkers can get jobs or build businesses and families can share in each other's lives. We want to help develop stronger, more inclusive communities for deaf people and their families."
It's not a competition; there's certainly an argument for protecting Turkish, Portuguese and Modern Greek – even Biblical Hebrew at a stretch (all these are on the DfE list), but the sooner we have a firm timetable for changing the curriculum to include BSL qualifications, the better.
Let us know what you think? Email us at info@deafax.org